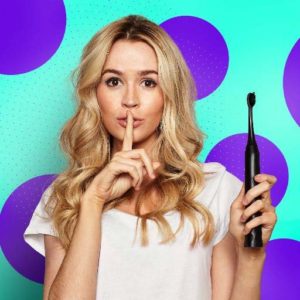 The holidays are here and if you're like most people, you'll be consuming more than your usual amount of sweets, such as cake and candy. Between office parties, family gatherings and eating out, the temptations are hard to resist this time of year.
Taking all this into consideration, it's especially important to focus on your dental health. Large amounts of sugar intake can damage your teeth. Even the increased consumption for a relatively short time during the holidays can affect your teeth.
A sonic toothbrush is a great gift that reminds your loved ones to treat their teeth well.
We know Christmas gift buying can get quite expensive. We'll let you in on a little secret: There are amazing sonic toothbrush deals to help you save some precious pennies while giving a gift you'll know they'll use all year long.
Oral Hygiene is a Gift
The gift of a healthy smile says you truly care about your friends and family. Having healthy teeth reduces pain and increases one's self-confidence. Your smile is really your business card given to the world.
A study has found that white teeth increases the likelihood of you being hired for a job. So much more than just oral hygiene is on the line. Sonic toothbrushes are the gift that keeps giving.
Those who suffer from poor dental health frequently suffer from tooth pain. The pain keeps them from eating the way they want and causes constant discomfort. Also, bad breath due to decaying teeth keep many from intimate relationships and interacting with the ones they love.
Regular tooth care reduces the chances of cavities and root canals. It's also essential to maintaining healthy gum tissue.
If  you've been searching the Internet for sonic toothbrush deals, look no further.
Sonic Toothbrush Deals
Burst Sonic toothbrush is the must-have gift of the year. Its sleek look comes in either black or white. Its signature design guarantees whiter and brighter teeth in two weeks.
SmileLogic is an affiliate for Burst Sonic and we highly recommend this sonic toothbrush for effective cleaning and maintaining a healthy smile.
Burst Sonic has 33,000 vibrations per minute, thus giving it the power to remove plaque, stains, and food debris with ease. Additional features include three brushing modes (whitening, sensitive, and massage), Quadpacer timing, a long-lasting lithium battery, and a two-minute timer.
Also, a subscription service delivers new Binchotan charcoal bristle heads every 3 months. (Binchotan charcoal helps to absorb impurities for whiter teeth.) You'll never have to worry about new toothbrush heads again.
Cheers to Healthy Teeth
The holiday shopping season has begun and you're one step closer to getting your shopping done. Let's make it a priority this year to buy gifts that everyone will love and use. There's a limit to the number of mittens a person can own, right?
Buying a gift that continues to give day after day will remind your loved ones of your thoughtfulness.
Click on the link on our website to take advantage the current discounted price. Plus, check out our list of services and contact us today for your appointment.
SmileLogic, Inc. has been serving Colorado with first-class dental hygiene services for over 15 years.