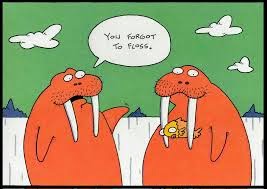 In a time where our health care system is seeing a lot of changes, dental health is still not getting the attention that it needs, or deserves.  According to the National Institutes of Health, 92% of adults have had a cavity  sometime in their life, and 26% have untreated cavities. Half of adults in the USA have some form of periodontal disease (64 million people!).
So, what can a dental hygienist do for you?  In Colorado,dental hygienists have been allowed to open and operate their own practices, without a dentist, since the late 1980's.  It is becoming more prevalent now, especially since more large chain dental offices are popping up.  A dental hygienist has the ability to evaluate for gum disease and treat the disease.  Hygienists also provide preventative dental care through cleanings, fluoride, sealants and other adjuncts.  Your dental hygienist is often the first person who will spot a cavity, cracked tooth, or other problematic findings.  It is the communication that is provided between the dentist and hygienist that is a big part of your dental care.
So, if you choose to visit an independent dental hygienist in Colorado, what can you expect?  Every clinician works differently, but you will find that your hygienist will evaluate for dental caries (cavities), and periodontal disease.  While a hygienist can not treat cavities, they will refer you to a dentist who can.  Your hygienist will help you determine a plan to treat periodontal disease, which can include "deep cleaning", antibiotics, laser treatments and other tips and tools for home care.  Hygienists are often taking a holistic approach to treatment as well, and may offer you suggestions that you may not get in a traditional office.
What is the benefit?  Visiting a dental hygiene office is different form a traditional office.  The atmosphere is usually much more quiet (no drills!), and can often be paired with spa-like treatments.  At my office in Broomfield, Colorado, we offer our patients wine, cappuccino, paraffin hand wax and heated neck wraps.  The quality of care is high, and the desire for patients to be comfortable and relaxed is our priority.  Dental hygiene offices are affordable, with many hygienists billing insurance as part of the service that they offer. SmileLogic, Inc. is a participating provider with Delta Dental of Colorado, Cigna, Medicaid and CHP+.  We take all kinds of insurance, and are happy to help you bill for services that are performed.
Interested in finding a dental hygienist near you? Check out www.myteethcleaned.com to find one in your area.